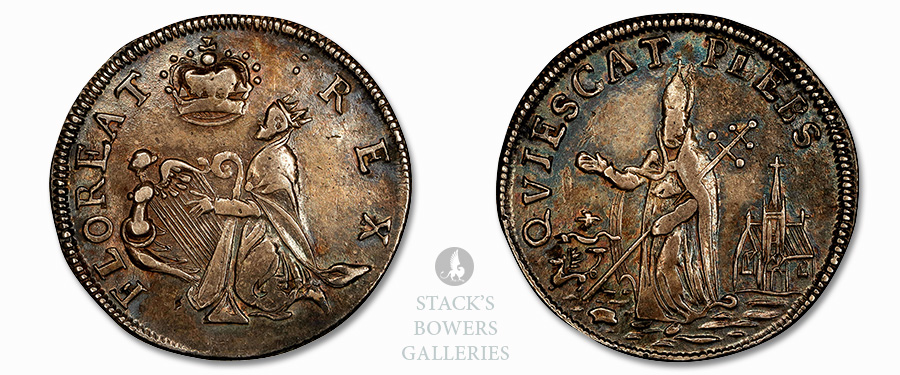 Among the many highlights of the extensive Sydney F. Martin Collection is a gorgeous Choice AU example of the coveted Saint Patrick farthing struck in silver. Cataloged as Martin 1d.1-Ba.11, this variety, is the most "common" of the 15 die pairings used to strike these in silver, though with Syd Martin's estimate of no more than 100 examples in silver extant, none can truly be described as "common." This example is certainly within the Condition Census for the die variety.
Graded AU-55+ by PCGS, this piece, once in the legendary collection of John J. Ford, Jr, was described by Michael Hodder in lot 3 of our (Stack's) January 2005 sale of the John J. Ford, Jr. Collection, Part VII as "the finest seen by the cataloguer, nicer than the best of Norweb's four." The finest known from these dies was sold in our November 2012 sale of the Ted Craige Collection, graded PCGS AU-58+.
Wonderful deep silver-gray patina is heightened by traces of iridescent blue and pale champagne. The strike is sharp on the obverse with King David's hand clearly defined and all the harp strings individually outlined. The central reverse is not quite as sharp, with some softness on St. Patrick's figure. The church to his right and the snakes and other creatures to his left are bold, the encircling legend is complete save for a very softly struck L in PLEBS. There is nearly a full border of denticles on this side, those at the lower left being slightly off the planchet. The fields are bright and somewhat reflective, not quite semi-prooflike, but of a quality higher than seen on most other specimens.
John Ford purchased this coin privately from New Netherlands Coin Co, and retained it until it was sold in Part VII of his extensive collection in January 2005. From there it was purchased by Lawrence Stack, and was included in his personal collection of colonial coins, which was sold en bloc to Syd Martin in November 2006. Syd used it as the plate coin for this variety in his reference on the St. Patrick coinage (pages 109 and 222) and the obverse is featured on the cover of that important numismatic reference.
This coin will be featured in Part V of the Sydney F. Martin Collection, featured in our November 2023 Showcase Auction, which also serves as the official auction of the Colonial Coin Collectors Club (C4). We are always looking for consignments of Colonial and Early American coins for our Showcase and Collectors Choice (CCO) Auctions. Contact Stack's Bowers Galleries today about your coins by calling 800-458-4646 or emailing [email protected].