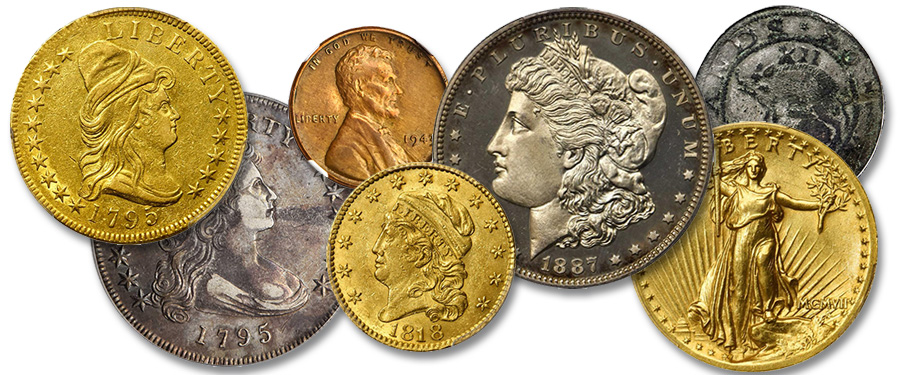 It is my pleasure to welcome you to the Rarities Night
session of our November 2020 Showcase Auction, which is highlighted by several
significant cabinets that are being offered for the first time in decades. As
we all continue to find our way in this unprecedented environment, it is
heartening to know that the coin collecting market remains strong and that
numismatics continues to provide an interesting and enjoyable pursuit for so
many.
Rarities Night begins with an impressive presentation of
Liberty Head and Indian half eagles from the Fairmont Collection. Featured are
a number of key-dates from each series, as well as Charlotte, Dahlonega and
Carson City coinage, desirable Proof issues, and Mint State examples of the
1911-D, 1912-S and 1929. As with previous selections from this collection, the
focus on originality and eye appeal is sure to draw considerable interest from
specialists.
The Naples Bay Collection is a magnificent group of United
States type coins that was assembled in the 1950s through the 1980s and has
been held privately since. It showcases some of the most iconic rarities from
the early U.S. Mint including a sharp VF 1797 Small Eagle half dollar, a Choice
AU 1795 Flowing Hair dollar, an AU 1795 9 Leaves $10, a Choice AU 1797 Small
Eagle $10, as well as several rare Saint-Gaudens double eagles. In addition to
the rarities presented here, we will be offering the second part of the Naples
Bay Collection in our December 2020 Showcase auction.
The Monterrey Collection was also built over the second half
of the 20th century and is now coming to market for the first time in a
generation. It features a complete set of Proof Morgan dollars that was
previously housed uncertified in a Capital Plastics frame. Other highlights of
this cabinet include an array of iconic type coins and key-dates including an
Uncirculated 1907 High Relief double eagle, a Mint State 1799 Capped Bust Right
$10, and a sharp 1856 Flying Eagle cent.
A virtually complete set of Morgan and Peace silver dollars
from the Abigail Collection includes more than two dozen Proofs. Formed many
decades ago and stored in individual paper envelopes, the Abigail Collection is
entirely new to the market and has only just been evaluated by the modern
grading services. Among its many highlights will be found a Gem Cameo Proof
1887 Morgan dollar and a Gem Mint State 1894 dollar.
Alongside these cabinets, our November 2020 Rarities Night
event showcases numerous additional treasures including a ca. 1616 Sommer
Islands shilling and a legendary 1776 Continental "Dollar" among colonial and
early American coins. Federal issues are highlighted by a Bronze 1943 Lincoln
cent, a Gem 1916-D Mercury dime, a Gem 1921-D Walking Liberty half dollar, and
a rare San Francisco Mint Morgan dollar reverse die. Featured United States
gold coins include a Mint State 1818 Capped Head Left half eagle, a Gem Cameo
Proof 1896 Liberty Head eagle, and a Gem Deep Cameo Proof 1896 Liberty Head
double eagle. Be sure to peruse the entire catalog to view these highlights and
many others.
This Rarities Night catalog is one of several impressive
catalogs for our November sale, accompanying specialized presentations of the
Larry Ness Collection of Indian Peace Medals, the Larry. H Miller Collection
Part One, and the E. Pluribus Unum Collection, Part 2. Of course, there is a
catalog featuring a dynamic selection of Numismatic Americana and United States
coins as well as one dedicated to United States paper money, both of which also
include our popular Internet Only sessions.
The entire Stack's Bowers Galleries November auction, with
sharp, high resolution, enlargeable images, is also featured on our website
StacksBowers.com or our iOS and Android apps. I, like the majority of our
clients, will be viewing lots and watching the auction online from my home here
in New Hampshire. I often think how lucky we all are that the Internet has made
it possible for us to be "together" for an auction, without having to travel
long distances. I should also mention that bidding live on our award-winning
website is very userfriendly. If you need help getting registered and set up to
bid, just contact our auction services department at 800-458-4646.
On behalf of the entire Stack's Bowers Galleries team, I
thank you for your interest and wish you the best of luck in your bidding!
Sincerely
Q. David Bowers