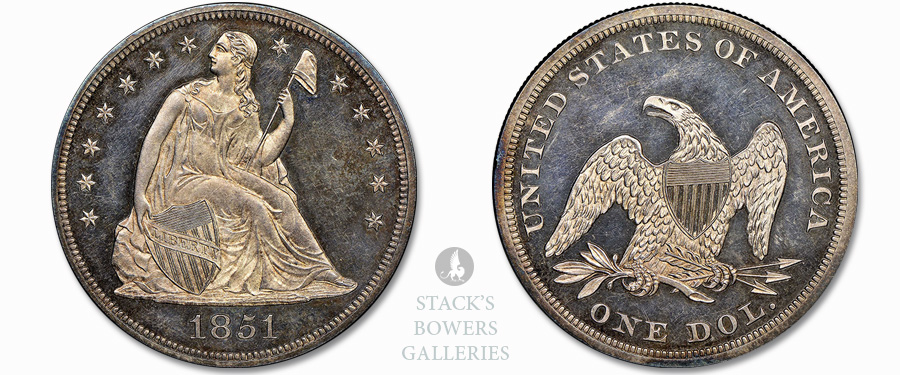 Stack's Bowers Galleries is excited to be offering a mid-19th century American numismatic rarity, a restrike Proof 1851 Liberty Seated dollar, certified Proof 61 Cameo by NGC, in our Spring 2023 Rarities Night Auction. Restruck in part as a result of the original's rarity, 1851 Liberty Seated dollar restrikes are treasured by advanced silver dollar collectors lucky enough to own them.
In the decade following the denomination's reintroduction in 1840, the Mint struck Proof Liberty Seated dollars for collectors. The practice ended in 1851, a year in which just 1,300 circulation-strike silver dollars were produced, a minuscule mintage that was noted at the time, whetting demand for the rare date. While New Orleans Mint silver dollars made in 1846 and 1850 augmented supplies of those dates for collectors, the Philadelphia Mint alone made silver dollars in 1851 (collecting by date and mintmark would not enter numismatic vogue until the 1890s).
With no Proofs and a very small circulation-strike mintage, collectors were strapped for examples of the 1851. The rare date was produced just a few years before the American coin collecting boom of the late 1850s, when Mint staff expanded restriking operations. Given its rarity, the 1851 dollar was a prime candidate for restriking, and Mint staff produced restrikes of it from the late 1850s through, by some estimates, the 1870s.
No Proof 1851 Liberty Seated dollars were struck, though some appear prooflike. Original pieces and restrikes are differentiated primarily by the positions of their dates; on original, non-Proof pieces the date is considerably higher, closer to the bottom of the Seated Liberty design while the restrikes' dates are better-centered.
Estimates of surviving restrikes vary slightly, but the consensus seems to be that less than 100 restrikes are known; some think the population is under 50.
Our cataloger has quite a bit to say about the attractive example we will be featuring in our 2023 Official Auction of the Whitman Coin & Collectibles Spring Expo: "Pretty surfaces exhibit subtle golden highlights under close observation, although the casual observer will be greeted by a largely brilliant coin. The cameo finish is bold and pronounced with sharp, contrast between mirrored fields and frosty design elements. The strike is full, evidence of superior workmanship in producing a coin that was intended for direct placement into an early U.S. numismatic cabinet. There are no sizable marks or other blemishes and, while wispy hairlines explain the NGC grade, the appearance is pleasingly smooth overall. Enhanced by the cameo finish and delicate toning, the visual appeal is exceptional for a large size silver coin at the Proof-61 Cameo level."
To consign to our Spring 2023 auction contact a consignment specialist at 800-458-4646 or by email at [email protected].