Our June World Paper Money CCO will be available on our website shortly. Over 1,500 lots will be included, so be sure to carefully peruse the offering. The Belgian Congo section is among the highlights of the sale, and features the following: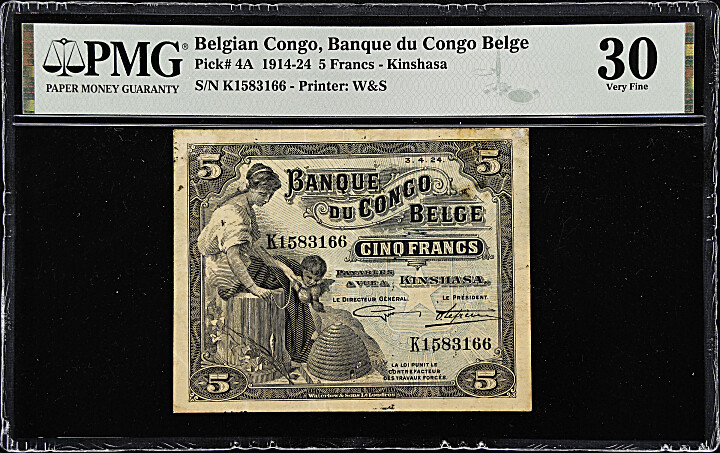 BELGIAN CONGO. Banque du Congo Belge. 5 Francs, 1924. P-4A. PMG Very Fine 30.
Printed by W&S. Dated April 3, 1924. Kinshasa. One of two examples we can recall handling publicly for the type. One of eight examples graded by PMG for the catalog variety. PMG comments "Previously Mounted". PMG Pop 1/1 Finer.
BELGIAN CONGO. Banque du Congo Belge. 20 Francs, 1925. P-10c. PMG Very Fine 25.
Printed by BNB. Watermark of elephant's head. Leopoldville. Dated October 3, 1925. A sensational grade for this elusive variety. Out of four notes graded by PMG, this note is Top Pop. Comment-free and a key note for any Belgian Colonial collector. PMG Pop 1/None Finer.
We are currently taking consignments for our upcoming August Americas sale, and September Around the Globe Collectors Choice Online Auction. To consign your U.S. paper money and world paper money to a future sale, contact a consignment specialist at 800-458-4646 or visit StacksBowers.com. For more information on viewing lots or for assistance in registering to bid, email your inquiry to: [email protected]​.