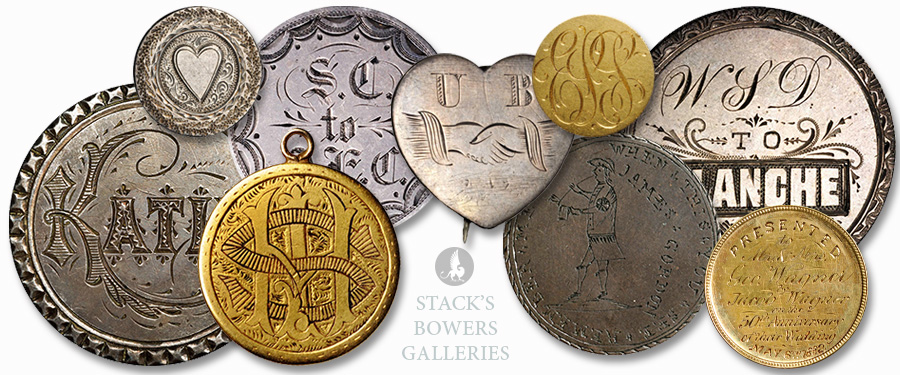 As Valentine's Day approaches, many numismatists are thinking about love tokens, coins and other medallic objects carved or otherwise engraved/modified to carry a new message; Coin World's cover feature for its February edition focuses on them.
Love tokens are a distinctive class of numismatic material – historic and often attractive folk art with a dedicated collecting community. Whether as a complement to a collection of the tokens' host coins or as a collection unto themselves, love tokens are popular collectible coins with a dedicated collector base. The sentiments engraved on love tokens are not always romantic; political messages, landscapes, advertisements, and many other themes can be found on these pieces of 18th-20th century folk art. These pieces were popular in 19th and early-20th century America and the practice endured into the 20th century, succeeded by hobo nickels and other forms of coin carving.
Vintage love tokens with themes directly referencing Valentine's Day are not common, but there exists a range of love- and Valentine's-themed numismatic material. Initials, often highly stylized, were carved into coins as tokens of love, as were declarations of love and affection. Weddings and anniversaries were sometimes commemorated. Also encompassed under the umbrella of love tokens are award medals fashioned out of coins, as well as a wide variety of advertisements and forms of identification. A variety of love tokens can be found in our auction archives.
A fascinating new book of essays sheds light on the carved coins that fall under the umbrella term "love token," focusing primarily on England, where the coin-carving practice seems to have originated, Tokens of Love, Loss, and Disrespect: 1700-1850.
Love tokens regularly come up in Stack's Bowers Galleries' auctions dedicated to tokens and medals, affording collectors ample opportunity to acquire examples, whether with the initials of their beloved or a pictorial theme. Groups of love token collectors exist on social media, which may be of interest to readers. Collectors interested in learning more about love tokens might consider buying a copy of Tokens of Love, Loss, and Disrespect, joining a love token collectors' club, and tuning into our next Tokens and Medals Collectors' Choice Auction in April.