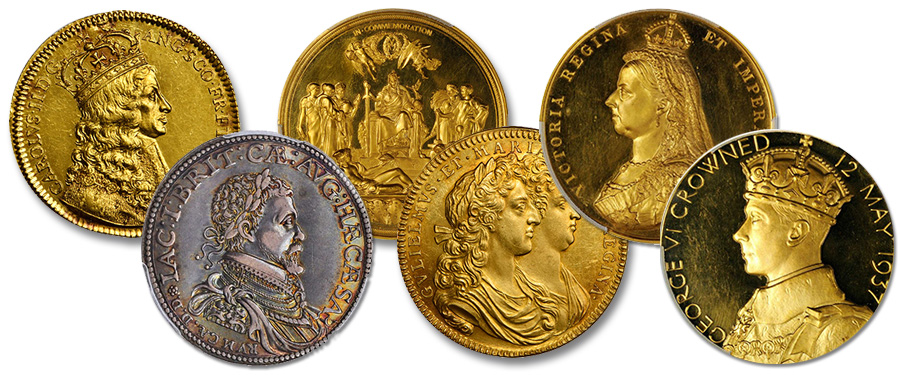 Did you know Stack's Bowers Galleries is pleased to present an exceptional and well-cultivated collection of British Coronation Medals formed by the "Duke of Lansing" in our August 2020 auction?
Beginning with James I and continuing through the coronation of the current sovereign, Elizabeth II, this vast collection presents official issues in their various metals and modules. In addition, the cabinet features medals commemorating other historically important events, such as silver and golden jubilees, and even the rather scandalous and unparalleled abdication of Edward VIII. We offer below some perspective from the "Duke" himself on the background of the collection as well as the importance that it represents.
At the outset, I feel it's important to tell you that I am merely a collector—I am neither a dealer nor an expert. My interest in British history is incidental, as I am not an academic nor are my ancestors from the British Isles. From an early age, however, I have been aware of the contributions that Britain has made over the centuries to culture, science, and the arts.
The work of the British Mint has always impressed me with its elaborate portraiture and intricate symbolism, along with its high quality of craftsmanship. I acquired important parts of my collection privately from individuals some years ago, and filled in the remainder commercially—both here in the United States as well as in England—until I believe that I obtained a complete representation of official medals from James I through the Golden Jubilee of Elizabeth II. Given that the medal for Mary of Modena (1685), the queen consort of James II, reputedly featured a mintage in gold of just 100 specimens, I contend that there can only be 100 complete sets of British Coronation Medals in all.
I have immensely enjoyed having such an array of British royal history so close to me for the past 25 years. Once I had completed that effort and had the medals displayed in a 14-foot custom case, I went on to collect royal autographs, land deeds with official wax seals (I was in real estate), court swords, and items from the Royal Yacht, among other things. My salon's centerpiece is a large, colorful coat-of-arms—a Royal Warrant—carved in the Victorian era from a single slab of oak.
I feel that it is now time to pass the collection on to others and I hope they will be as inspired by it as I have been. Stewardship is a special responsibility, and we collectors are links in a chain of custody that will hopefully preserve the quality and value of such special rarities for posterity.
Yours,
"The Duke"
Stack's Bowers Galleries August 2020 auction will cross the block, August 5-7, in Las Vegas Nevada.  The Duke of Lansing Collection is featured in Session C, World Coins that begins on Thursday, August 6 at 1:00PM PT.  For more details or to request a copy of the catalog, email us at [email protected] or call 800-458-4646.