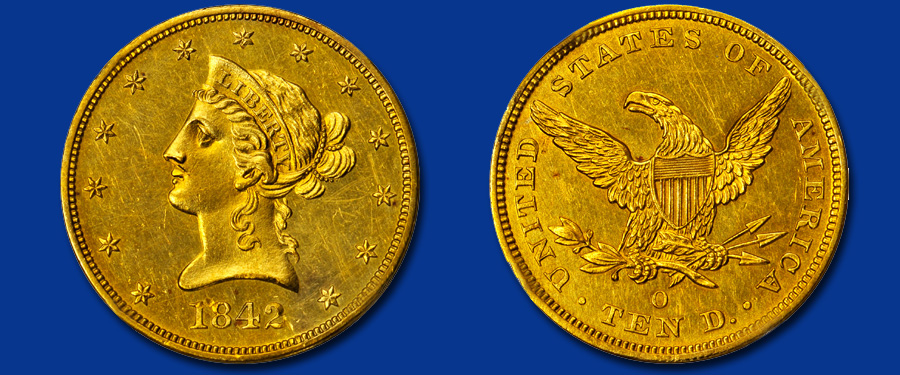 ​Highlighting the extensive selection of rarities in our August 2016 Official ANA World's Fair of Money auction is a marvelous Specimen strike 1842-O Liberty eagle. Even the quickest glance will reveal that it is certainly something special, exhibiting a uniformly mirrored finish, smartly impressed devices and remarkably full detail for a New Orleans Mint coin. Wispy handling marks are mentioned solely for accuracy, as none are worthy of singular mention. Handsome deep orange patina blankets both sides and enhances the memorable appearance of this fantastic rarity.
In 1841, the New Orleans Mint began production of eagles, striking some 2,500 examples of the denomination that first year, dramatically increasing production the following year with 27,400 coins. Despite the larger mintage, the 1842-O is still one of the rarer of the entire series from this mint. Douglas Winter in Gold Coins of the New Orleans Mint rates the 1842-O as the fourth rarest eagle, especially challenging in grades above VF or EF. Finer than AU, this is a well-regarded condition rarity, so much so that Winter states, "…it has been many years since a Mint State example has been available for sale." Our (Stack's) sale of the Johnson-Blue Collection in August 2010 included an example certified MS-61 by PCGS that realized $74,750.
While a sought-after rarity as a circulation strike, as a specimen this coin is in a league of its own. While special presentation strikings and Branch Mint Proof coins from the New Orleans Mint are known, they are of the utmost rarity. At most, there are only three other known Specimen or Proof eagles from the New Orleans Mint, the best of these being the Lorin G. Parmelee specimen 1844-O. That coin is said to have come out of the Seavey Collection sale as an "1844 Proof," with no indication of the presence of a mintmark, something that is not as surprising as it sounds. Collecting coins by mintmark was not popular until the 1893 publication of Augustus C. Heaton's landmark book, A Treatise on Coinage of the United States Branch Mints.
First offered as part of the 1890 New York Stamp & Coin Co.'s Parmelee sale, the 1844-O specimen strike graced the cabinets of such famed collectors as William Woodin, Virgil Brand, and John Ford, Jr. It was later offered for sale by Robert B. Lecce for $2 million in the August 9, 2004, issue of Coin World. That coin has been certified by PCGS as SP-64BM with a price guide value of $1,500,000. A second 1844-O eagle in an NGC Proof 65 Ultra Cameo holder has been reported, though it is not known if it is the same as the Parmelee-Woodin-Brand-Ford specimen. The only other Branch Mint Specimen eagle is an 1853-O certified at the SP-61 level by NGC, a coin that we (Stack's) had the pleasure of selling in August 2010 for $316,250.
The 1842-O specimen strike eagle to be offered in our August sale is therefore in fine company, bearing all the hallmarks of having been struck with the extraordinary care indicative of a presentation strike: a strong, even impression rich in detail, crisply defined denticles, and frosted features on a brilliant field. Indeed, when it was offered as lot 777 in our 1974 Bowers and Ruddy sale of the Stanislaw Herstal Collection, the cataloger was unequivocal about its status as a presentation striking:
"1842-O. Specimen striking. A beautiful prooflike Uncirculated coin; undoubtedly a specimen striking. The fields are of unusual flatness and are highly polished as with a Proof. There are New Orleans Mint Proofs known of other coins of this era; the 1838-O half dollar and the 1844-O Proof eagle (Parmelee Sale) being examples. The present 1842-O specimen has some hairlines and some surface marks, but the distinctive prooflike cameo appearance is there."
In discussion about the overall luster of the issue, Winters also observed: "There are also a few that are prooflike including at least one that was offered as a 'presentation piece' back in the late 1980's." With its certification as a Specimen-60 example by NGC, there can be little doubt of the exceptional nature of this piece. It is among the rarest of the rare: a Southern branch mint specimen strike $10 eagle. Students of the gold coins struck at the New Orleans Mint will pay special notice when this astonishing coin crosses the block on its way to a place of honor in its next home.
This stunning, possibly unique, rarity will be offered alongside numerous other treasures in the Rarities Night session of our August 2016 ANA World's Fair of Money Auction in Anaheim, California. To obtain your copy of the catalog or consign your rarities to a future showcase event, please contact our offices today at 1-800-458-4646 to speak with a Consignment Director and see what Stack's Bowers Galleries can do for you