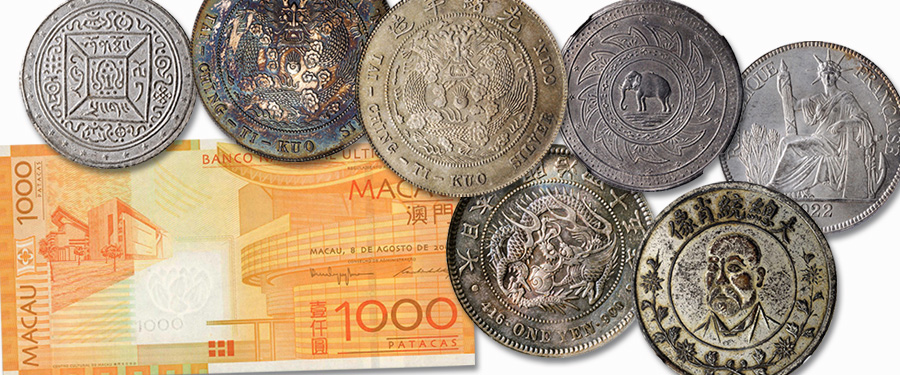 As the world shifts to an increasingly online environment, numismatic items that had previously been reserved for live sales at major auctions are finding their way to exclusively internet venues. In the October Collectors Choice Auction, a Russian 37 ½ Rubles established the Stack's Bowers and Ponterio company record for the most valuable item sold exclusively online with a final price of $138,000. Less than two months later, this high watermark was smashed by several lots in the December Hong Kong Collectors Choice auction. (All prices include the buyer's premium.)
Leading the way was a Chinese Silver Tael Pattern Restrike offered in PCGS Specimen-65 that realized $1,350,000, nearly a tenfold increase on the previous record. This example is one of nine total items that surpassed the previous record holder, proving that online only sales can compete with traditional live auctions. A pair of specimen Dollars from 1906 both pedigree​d to a Lester Merkin sale, one Chinese Empire type graded SP-64+​ and the other Chihli Provincial Dollar SP-64​ reached final prices of $1,260,000 and $960,000 respectively.. An exceptionally intriguing and rare Big Beard Commemorative silver pattern from the Suchow Mint sold for $780,000, far beyond its estimate of $75,000-$125,000. This figure stands as the highest price ever recorded for an individual Chinese coin in an NGC holder.
Other areas of Asian numismatics saw strong prices continue. A Tibetan Srang from CD 1 (1909), the finest example graded by PCGS, realized $44,400. An 1863 2 Baht from Thailand exceeded its estimate bringing $2,400, a price unimaginable for a circulated example even 18 months ago. Similar trends continued with French Indo-China, with a near-Gem 1922-H Piastre also garnering $2,400. An 1842 First Opium War medal trial strike in bronze was bid to $19,200, far beyond the $3,000-$5,000 estimate. After years of stagnation, the December 2021 Hong Kong auction confirmed that the upward movement in the Japanese market seen in 2021 was more than a single sale phenomenon as an Ultra-Gem Year 45 Yen sold for $5,760, nearly double the high estimate of $3,000. Among world paper money, a set of Macanese notes containing a 10, 20, 100, 500 & 1000 Patacas with Ascending Ladder Serial Numbers sold for $21,600.
Prices for the December Hong Kong Collectors Choice Auction totaled over $10,000,000 between coins and paper money, a 229% premium over the high estimate for all lots of $4,380,225. The world coins had a sell through rate of 97.9% for the more than 1,500 lots being offered. This sale capped a banner year for the world and ancient coin department at Stack's Bowers and Ponterio, pushing final sales figures over the $100 million mark for the year. Stack's Bowers and Ponterio now shifts their attention to 2022, anticipating a strong performance at their official NYINC auction where many rarities will be offered.
We are always seeking coins, medals, and paper money for our auctions, and are currently accepting submissions for our Spring 2022 Hong Kong sale. Additionally, we are accepting submissions for our Collectors Choice Online (CCO) auctions, the next of which will be in February 2022. If you would like to learn more about consigning, whether a singular item or an entire collection, please contact one of our consignment directors or email [email protected] today and we will assist you in achieving the best possible return on your material.