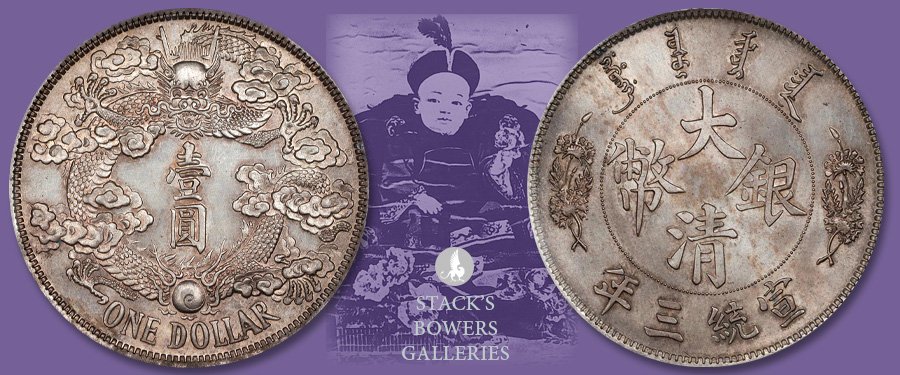 Our biannual Hong Kong auction is always a highly-anticipated trend-setter and market-maker, featuring countless rarities from the Pacific theater. Leading the pack in our April 2023 Hong Kong Rarities Night auction is lot 40162, an important rarity from the final year in the brief reign of Hsuan-t'ung, more commonly known as the boy-emperor Puyi. With a high-end estimate reaching seven figures, this silver Dollar pattern only comes to market rather infrequently; the last time was in our May 2020 Hong Kong auction. This despite the vast numbers of Chinese rarities offered in the time span since that appearance.
Subtle differences in the design of the dragon set this prototype apart from the commonly encountered issue that was eventually adopted. These include the side from which the dragon is curled, the shape of its scales, and English characters which vary slightly in overall size and design. These seemingly minor or even inconsequential differences factor heavily in its rarity and immense desirability. When combined with this example's superb state of preservation – graded SPECIMEN-65 by PCGS – it becomes very easy to see why this stunning relic from waning Ch'ing rule will soar to lofty heights in yet another fantastic sale offered by Stack's Bowers and Ponterio.
To view our upcoming auction schedule and future offerings, please visit StacksBowers.com where you may register and participate in this and other forthcoming sales.
We are always seeking coins, medals, and paper money for our future auctions, and are currently accepting submissions for our August 2023 Global Showcase Auction and our Fall Hong Kong event. Additionally, we are accepting submissions for our Collectors Choice Online (CCO) auctions, the next of which will be in May 2023. If you would like to learn more about consigning, whether a singular item or an entire collection, please contact one of our consignment directors today and we will assist you in achieving the best possible return on your material.